Schedule
Fear the woods will open September 27th 2019
Open 7:00 pm – 11:00 pm every Sunday in October
Open 7:00 pm – Midnight every Friday & Saturday from September 27th to October 31st. Also open Halloween Night.
Please check our Facebook Page for weather/crowd information before you come! NO REFUNDS!
Please note that Friday and Saturday nights are our busiest nights. Our highest volume nights are the last two weekends in October. If we reach max capacity, we have to close our gates early for safety reasons. To avoid this, please arrive before 9:00pm or come out on Sunday night. Please check our Facebook page for crowd information and PLEASE PLAN AHEAD!
Please Check Facebook/Instagram for weather updates. 70% of Fear the Woods is outside and the last thing we want are drenched customers covered in mud.
If there is ANY questions about us opening, please check Facebook/Instagram.
BUY TICKETS NOW!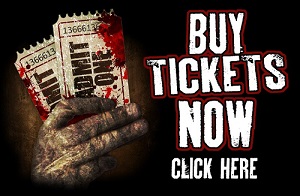 SKIP the Entrance Line! Buy Online!
Fear the Woods is a popular outdoor event. Please check our Facebook page on the night of your visit for any important weather or crowd information. NO REFUNDS!
NEW for 2018! Please bring ID and Credit Card used for online purchases.
Each guest will walk through a metal detector. Please plan accordingly. Leave large purses, bags, and book bags in your vehicles.
Fear the Woods is not responsible for damages to your person or objects in your possession on the farm. Please watch where you step and be aware of your belongings such as phones or keys.